When it comes time to purchase a new garage door, one of the many questions you may come across is, "Do you want your garage door insulated?" If your garage is attached, think of it as an extension of your home. These garages often have insulated walls to keep in the heat so your garage can serve as a buffer between the home and outdoors. However, having an insulated garage without an insulated door is equivalent to leaving the door open. The heat or cold that can pass through your garage door is enough temperature to draw from your home's heating or cooling efforts.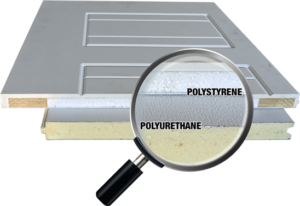 Reduced Heat Loss Through your Garage
For many homeowners, the garage is one of the primary entrances of the home. It is often also the largest entrance on your home's exterior. Because of this, the garage can be one of the biggest problem areas for heat loss in your home, impacting your home's energy efficiency.
The best way to reduce heat loss through your garage is to install an insulated garage door. Along with increased energy efficiency, garage door insulation offers additional benefits, such as quieter operation and increased overall door strength and durability.
An insulated garage door prevents heat from escaping through your garage in the winter, meaning it may require less energy to heat your home. In warmer seasons or climates, insulation prevents excess hot air from getting into your garage, meaning lower cooling costs and increased comfort while using your garage.
Because many garages are connected to the rest of the home (often called attached garages), this can have a huge impact on your home's overall comfort. For example, many garages lead into a high-traffic area of your homes like a hallway or kitchen, or there are rooms above the garage. This makes it easy for cold air to spread throughout the home in the winter as it enters through your garage. This will inevitably happen as you use your garage but choosing a garage door with insulation minimizes heat loss that occurs even while your garage door is closed.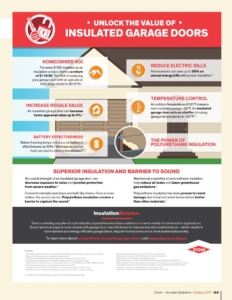 R-Value
A garage door's R-value represents its ability to slow the transmission of heat. A higher R-value means a slower transmission of heat, which means less cold air leaking into your garage in the winter and less heat invading your garage in the summer. When it comes to R-values for garage doors, the higher the better!
0-4: Minimal to no insulation
5-8: Lightly insulated
9-13: Good insulation
14-19: Excellent insulation – good for those who heat their garages for garage work and want to ensure their garage doesn't lose heat.
Polystyrene Garage Door Insulation 
Popular because of its value and simplicity of installation, polystyrene is the less expensive option of the two. In addition to being waterproof, polystyrene is manufactured into large sheets or panels that can be easily modified to fit any garage door. Available in varying thicknesses with insulation values ranging from R2 to R10, polystyrene is a great value if thickness and R values are not a limiting factor in your decision.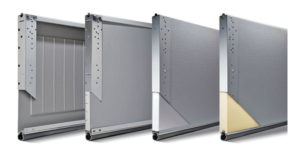 Polyurethane Garage Door Insulation
The denser choice of the two, polyurethane is the best insulator but comes with a heftier price tag. Polyurethane boasts R values ranging from R10 to R18.4. In addition to efficiently insulating your garage, polyurethane also adds support and rigidity to your garage door, making it more resistant to damage. It will also decrease the noise emitted from your door and soften the associated shaking and vibrations that come with opening and closing the door. Polyurethane is an energy-efficient material. This form of insulation is comprised of a polyurethane foam that is injected in between the door's steel layers, expanding to fill all of the nooks and crannies of the door.
Now that you know the difference between the two materials, it is time to decide which one is right for your home. Here are a few questions to help:
What is my goal? Is your goal to lower your energy bill? Is your goal to get more use out of your garage in the winter months? Depending on what you are trying to achieve with your garage door project, one material may better serve you than the other. If you are wanting to turn your garage into an extra living space or workshop, you may want to consider polyurethane. But if you just want to cut down on some of your energy costs, the cheaper polystyrene may be of better value.
What is my budget? As with any home improvement project, budget is always an important factor. It is important to factor in what kind of value your project had beyond the money you are putting into it. Will it increase or decrease the value of your home? What effect will it have on your energy costs?
Taking these questions into consideration should help with the decision on which insulation fits your garage door project the best. If you are still unsure, please contact Access Garage Doors for more information.
More about Garage Door Openers
https://accessdoorcompany.com/wp-content/uploads/2020/09/Access-Advantage-Instantiated-garage-door-1-e1599053241172.png
349
620
AGD
/wp-content/uploads/2022/02/Access-Garage-Doors-New-Logo.png
AGD
2020-09-01 16:56:07
2020-09-15 18:06:54
Polystyrene Vs. Polyurethane