Transform Your Home with a Black Garage Door
If you have purchased a "previously Loved" home, you may find the design and layout irresistible, but you may not always love every feature that comes with your home. White is the color most people think of when it comes to a garage door. A black garage door is a modern and stylish choice that brings a unique look to your home. Plus, Black is the color du jour in today's exterior design trends.
Should your garage door match your front door?
Most home décor experts agree that, as a general rule, the garage doors should match the front door, especially if they both face the street. Matching doors have a way of tying the exterior together, which enhances the home's visual presentation. You will achieve a more uniform look that creates a more comfortable and welcoming appearance.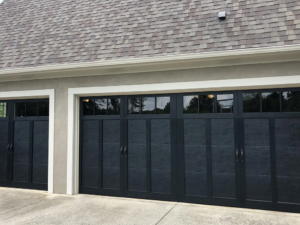 Your garage doors play a key role in your home's overall curb appeal, and, as a homeowner, you want to make sure you love the color you choose for it. Why not go with a black garage door?
Black home exterior aspects, including a garage door, became popular with modern-day, modern home design. The color black lends an air of sophistication to the exterior of a home. Black garage doors put a brand new, unforeseen twist to any home.
Get Creative and Customize your Home's Look
In the past, painting a steel garage door black was asking for trouble: The surface would absorb and retain too much heat, causing the steel garage door to bow in high temperatures, but new thermal reflective "cool paint" technology reduces heat absorption and retention.
When it comes to designing your home's exterior, black is the new black. According to a recent study by the real estate service Zillow, Bold, dark colors like Black are becoming more popular and can increase a home's selling price by thousands of dollars. 
Investing in a new garage door is currently the most cost-efficient way to increase your home's overall worth on the American real estate market. Since black is all the rage right now, a black garage door could add even more value to your home. 
Need another reason to go with a black garage door? It won't show dirt and wear as easily as doors that are white or lighter in color.
Choose from a Variety of Materials
At Access Garage Doors, a few of our most popular door options are available in black, including some of our classic steel and carriage house doors. Our steel garage doors are long-lasting, high performing, energy-efficient, and available in various styles. When painted black, they will be sure to catch the eye of everyone who passes by.
Our Modern garage doors are available with a wide variety of options to suit your taste and your home's appearance. Whether your home is mid-century modern, contemporary, or somewhere in between, these beautiful and durable steel garage doors will add curb appeal to your home's exterior.
When picking the best door for your garage, a good place to start is with material type. Most garage doors are made from either wood, steel, or fiberglass. These three materials are strong, durable, and each have their unique benefits at various price points. To pick the perfect fit for your home, most manufacturers have a program that helps you design your dream door and allows you to see how it will look on your home.
There are several different manufacturers that carry black garage doors in many design options. Clopay Garage Doors, Amarr Garage Doors, Haas Garage Doors, Wayne Dalton, C.H.I and many more

Wonder how your garage would look?
Access Garage Doors also has a Visualizer Quote that will ask you a few short questions and upload a picture of your home. An Access team member will then provide garage doors that best suits your home by the answers that you provide.
Learn More about Polystyrene vs Polyurethane
https://accessdoorcompany.com/wp-content/uploads/2020/08/Access-Advantage-Black-Garage-Door.jpg
1260
2240
AGD
/wp-content/uploads/2022/02/Access-Garage-Doors-New-Logo.png
AGD
2020-08-21 14:21:21
2020-09-15 18:04:11
Black Garage Door