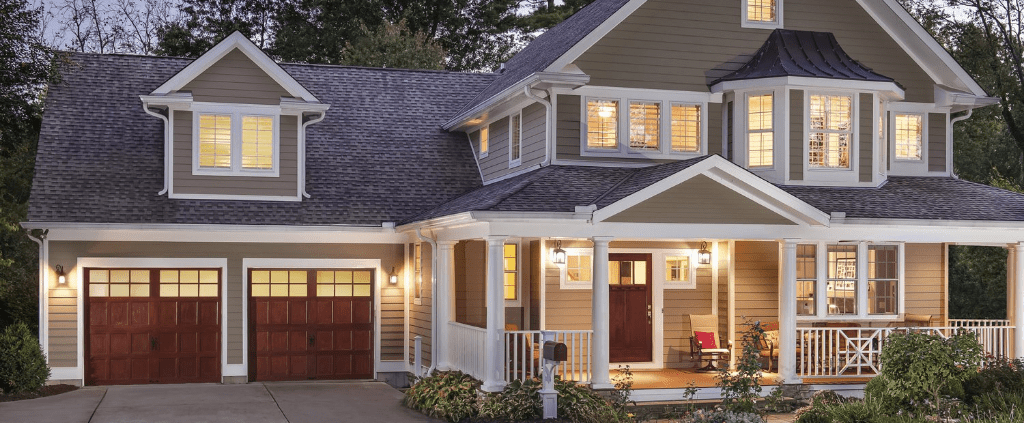 Garage Door Repair
It's 7:00am and you are telling your precious little one to get in the car while simultaneously telling the dog to go back in the house. You finally juggle the day's baggage into the back seat of your vehicle. At this very moment, you realize your most valued item was left in the kitchen, your coffee. You rush back in, grab it, and on your way back out to your car, you press the garage door button on the wall. The garage door goes up about a foot and then a loud pop seems to stop the door in it's tracks, and everything goes silent in the garage. Honey! I think the garage door is broke! We call this "Access Denied".
This is definitely an inconvenient situation but can also be a very dangerous one as well. We wanted to compile some tips to assist you while dealing with this unfortunate disaster to your home. Your home is quite possibly the largest single investment that you will make during your lifetime and Access wants to help you make the right decision when trusting someone to repair or improve it.
DO NOT TOUCH
The garage door is the largest moving part of the home. This door is under an extreme amount of pressure due to the use of the garage door counterbalance spring system. You would not be able to use only a garage door opener to lift the complete weight of the door. This is why the spring system is equally important and dangerous. If you try to operate the door you could cause further damage to the door or you could even cause the door to come out of the tracks and fall on somebody or something like your car. If you was touch or adjust the wrong part of the garage door system you could even see catastrophic damage to yourself or someone else. It's best to leave it alone. 
CALL A PROFESSIONAL GARAGE DOOR TECHNICIAN 
There are plenty of people that will say they know how to work on a garage door and they will sell themselves as a professional. This is not to say that these individuals could not do this task, but there is a difference between a true professional and a guy that says he can fix anything. The honest truth here is that it is not "rocket science", but like anything, there is a method to completing a proper repair on this portion of your home. 
CHARGES
Most service companies will not mobilize a trained technician to your home free of charge. It is our opinion that an honest company should offer these details without having to be prompted to do so. In case they do not, you should always ask. It is your responsibility to know this before the company makes the investment to come on-site. Some companies will charge hourly. If they do, then ask if the drivetime is also an hourly charge. Some companies charge per trip and should be asked if a second trip is needed, is it a charge? Some will even combine these two methods with a trip charge and hourly. Know what their charging formulas are before they come out. Remember that this part of your call can be considered a verbal commitment.
General Liability and Workers' Comp
Request proof for General Liability and Workers' Compensation Insurance. Did you know as a homeowner, you could be held liable for injuries to an employee that occurs on your property. This can be a scary thought considering they are dealing with steel cables that have hundreds of pounds of pressure, working off ladders, and lifting heavy objects. Before allowing a repairman on your property, ask for proof of these insurances to protect yourself. A true professional operation can produce these very quickly.
WHO ARE YOU TALKING TO
In today's digital world, your call can very easily be directed to anybody. Some industries like our own have even had people create fake locations online in order to obtain your call.  These calls are often times routed to a national call center for a referral company or a larger garage door company that than sells your call as a lead that ultimately costs you more. Make sure that when someone answers the phone, they clearly state their company's name. They should be proud of their organization and willing to fully disclose what they offer and what can be expected.
WHAT THEY DO
Nowadays there are plenty of people that say they can fix your door. In fact, one, a phrase that the founder uses constantly is "It's Just Nuts and Bolts" has stuck with the entire organization. However, it is so much more than that. Garage Doors is one of those trades that you want the specialists working on to increase your odds of a quality repair. Most people do not want a "do it all" kind of tradesmen doing this kind of work on the largest moving part of the home. There are specialized parts that need to be in stock on the truck, there are major liabilities that need to be completely addressed and you want to use a successful company that will be there if you ever have warranty needs in the future.sk w
VEHICLE
Ask what type of vehicle will be coming to your home. Is this vehicle clearly identified as a company vehicle? Remember this is the first thing you see and should be a professional image for your garage door company. This doesn't mean that it should be the newest model straight off the lot. It means that a true professional is growing their business by branding in order to be around for your future needs for many years to come. There has also been safety concerns for non-branded vehicles showing up for service. Remember you are allowing these people in your home. Does the vehicle have full coverage insurance? This vehicle is on your property and anything can happen.
TECHNICIAN
Are they going to be uniformed? This is more of the same from the vehicle section. A company that cares about their reputation will invest in what that technician displays onsite. What is your training process? If you want to know if a technician knows what they are doing, then who do you ask? Most homeowners are not well versed in how to or the standards associated with repairing and installing garage doors. You only insight into this is to ask their employer how do they train their technicians. A true professionally ran garage door operation should have a structured process to this and be able to answer very easily. If not, then the company or owner may not focused on creating high quality staff members to send to your home.
ASK ABOUT WARRANTIES
Not all service companies are the same. Ask how long their installation warranty is. Ask what kind of warranty is in place for labor related to manufacturer parts warranties. These warranties are provided directly to you from the organization you are dealing with. 
Another part of the warranties that can often times be confused as a warranty the local service company is giving you, is the manufacturer warranties. Manufacturers will warranty the parts of their systems that they sale. Two questions are necessary for this topic. One, What brands do you carry and what are there part warranties? Two, If I have a part warranty situation, what is the step by step process that relates to me? A reputable garage door company works with the best brands possible and this should be reflective in the warranties offered to you.
COMPETITORS
Yes we know, some may find this to be an awkward question but it is another way to gain some valuable insight. Ask how are they different than their competitors. Nobody likes competition, but the truth of the matter is that competition will continuously drive a successful operation to a higher level of service. Most business people know that you do not get to where you want to be by bashing or degrading competition. This does not mean they cannot compare what they know. A successful operation usually knows there competion and can explain exactly why you should choose them over a competitor.
CHECK REVIEWS
There is a vast amount of resources to check out what others have experienced with this organization and it is just a few clicks away. Some of the most popular sources for this would be Google Local Business Listings, Your local Better Business Bureau, Yelp and the company's social media pages. The old saying goes "You can't please everybody". This is true but if a company cares about what they do, then they should at least be trying. Pay close attention to replies or the lack of. Often times you can see how the company handles tough situations through this method of investigating. Take into account the company's evolution and the overall percentage of satisfied customers. Is there a trend of recent activity or more long term trends?
HOW DO I PAY
Always cover this so you you can be prepared. Most companies will not bill you these days with setting up a billing account that will have to go through an approval process. If the person you are talking to does not accept credit cards then this may be an indicator that you are not dealing with the professionals. Some professionals may even offer special third party financing as well. Part of being in business is providing a smooth and easy transaction for customers. If someone is not providing this in regards to receiving payments, then what does the rest of the transaction hold in store for you.
Life is hectic. At Access Garage Doors, we appreciate the fact that you do not need another challenge in your hectic life. Homeowners have trusted Access for over 15 years to provide reliable Access in and out of the home because of the good ol' fashion service that we have become synonymous with. Professionalism is not something that should be sacrificed in the home services business and this belief is what makes Access Garage Doors such a trusted brand when it comes to garage door repairs, service, sales, and installation. To find a locally owned and operated Access Garage Doors near you visit our locations page of our web site or feel free to call 877-2-OpenUp.
Learn More About Lifestyle screen
https://accessdoorcompany.com/wp-content/uploads/2019/01/111.png
769
1024
AGD
/wp-content/uploads/2022/02/Access-Garage-Doors-New-Logo.png
AGD
2020-08-18 13:53:47
2020-09-15 18:04:38
12 Tips for Successful Garage Door Repair