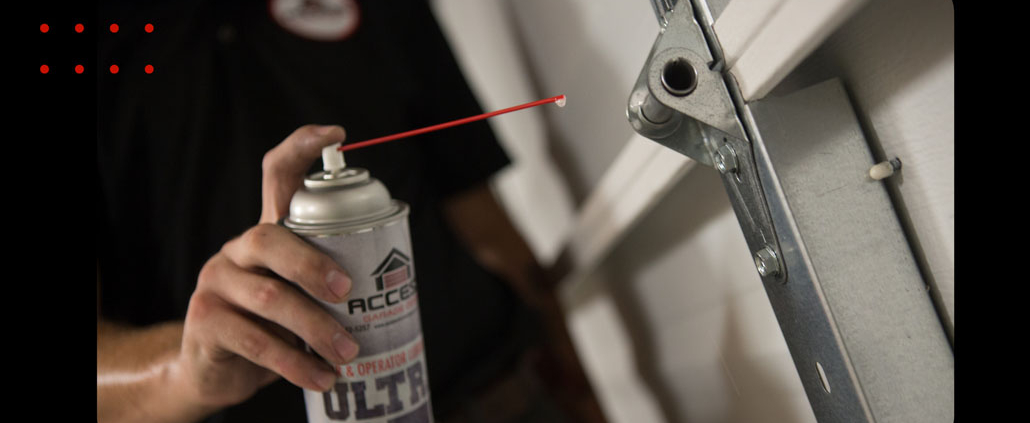 How to Stop a Squeaky Garage Door
A squeaky garage door is a hassle and over the year's things will get worse. It gets constant use and that wears down the hinges, springs, and integrity of the door. This could lead to locking in place or not raising at all. It's essential the garage door runs smoothly, or your car won't be able to leave, trapping you and it inside. Having the best garage door lubricant can help alleviate the issues of a stuck garage door and provide you with a gateway to the outdoors.
There are always questions as to what types of garage door lubes are okay and what shouldn't be used at all. Whatever you do, Do Not spray WD-40 on your garage door parts.
People commonly confuse this product, which has rust-destroying and degreasing properties with a lubricant because it generally helps metal parts move better. That action is from the cleaning, not from true lubrication. WD-40 is a Solvent and not a Lubricant. When lubricating a garage door, you will want a product that is going on as a liquid and turn into more of a gel substance.
Benefits of Garage Door Lubricant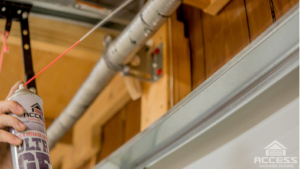 Silence the door– Over time a garage door may start to squeak and whine. It's not only annoying, but it could also be damaging the gears and other parts.  Lubricating the door will help keep the door silent and lessen the chances of it breaking with each use.
Protect the garage– Since a garage door is the new front door to a home, it gets a lot of use. Opening and closing the door wears down the gears and the track holding the door. If any part breaks, the door could be locked into place. Lubricating certain components will help protect the garage and keep anyone or anything from wandering inside.
Increase the garage door's life– Lubricating the garage door springs, track, hinges, rollers, and locks will help make sure they hold up each time you open and close the door.
Frees up movement– While the creaks and moans of the garage door means it needs lubricating, they also mean it's working twice as hard when opening and closing. This could lead to a garage door sticking to the ground, preventing it from opening properly. Using a good garage door lubricant will improve the chances the garage door does not get locked in place.
Prevent Rust and Corrosion
Rust is the number one enemy when it comes to essential metal parts. It turns the usable parts into parts that are unusable or will make you exert a lot of effort on items that are made to ease your job. Preventing the rust and/or corrosion from happening before hand will extend the life of your garage door and keep you from having to replace parts that could have had a longer life. High-quality garage door lubricant sprays that are usually composed of silicon can help prevent all of these and will protect your garage door parts so that it can perform effectively at the most efficient way.
Protects from Dust and Other Elements
With Dust and other elements, prevention is the best protection. A little spray every now and then will keep the repairman's bill away. Given their almost invisible nature, you will never know their presence until it is too late, and your garage door hinges end up stuck. Always keep in mind that a little spray keeps door troubles away.
Extend the Life of Your Garage Door
Since garage doors depend so much on the moving parts, well-lubricated parts can literally increase the life span of your door. For instance, getting a hinge unstuck can take a toll on your door itself, especially with the process just to get the door unstuck.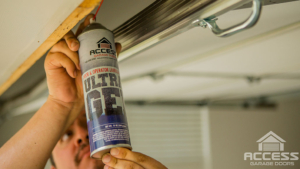 Access Garage Doors Ultra Gel Spray Lubricant
Access Garage Doors Lubricant is a Teflon based spray lubricant that prevents rust and corrosion on garage door torsion springs reducing friction between the coils for a much quieter door operation. This lubricant is also used on all moving parts of the garage door such as the hinges, ball bearing rollers, and brackets. It is manufactured to withstand extreme pressure and temperatures -30 to +600F. You can purchase a 13oz can that comes with a straw for easy application at our office or from our service technician while they are at your home.  Our gel lubricant is a clear, high-adhesive strength, penetrating lubricant. Easily dispensed spray penetrates tight areas by initially going on thin and immediately forming a clear gel.
Read More about Access Garage Doors Lubricant
https://accessdoorcompany.com/wp-content/uploads/2020/09/Access-Advantage-Garage-door-lube.jpg
579
1030
AGD
/wp-content/uploads/2022/02/Access-Garage-Doors-New-Logo.png
AGD
2020-09-15 10:00:55
2020-09-15 13:53:06
Garage Door Lube