Garage Door Torsion Spring Repair, Tallahassee, FL
Stay safe and have our experts perform a garage door torsion spring repair.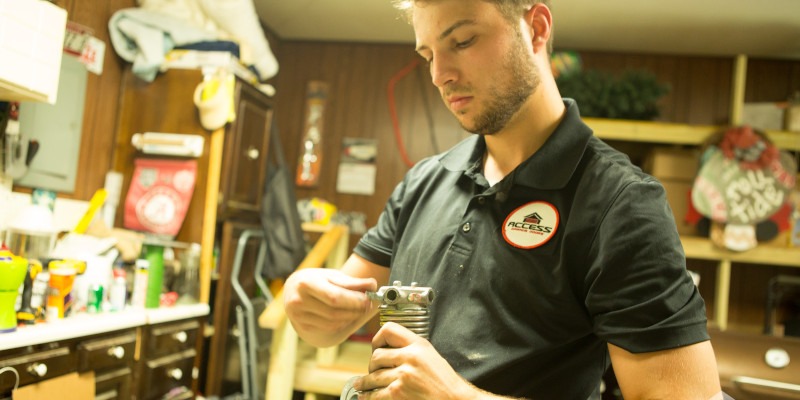 Most people don't fully understand the mechanics and workings of their garage door. We understand that there is a mechanical opener that lifts the door on its tracks, and that there are safety features to ensure that the door will automatically reverse. Other than that, however, most information is left to the garage door experts. Here at Access Garage Doors of Tallahassee, we want to help you with all you need for your garage door and its parts.
There are many parts associated with your garage door and the frame that allows it to open, one of the most important being the garage door torsion springs. The garage door torsion springs hold energy and assist the opener in lifting the very heavy garage door. This tension can wear and start to degrade the springs over time, leading to issues that require a garage door torsion spring repair.
When you work with our team of garage door experts in the Tallahassee, Florida area, we are able to give you a quality garage door torsion spring repair. Because we have the experience you want when it comes to residential garage doors, our customers can count on us to provide a thorough and complete garage door torsion spring repair. We are able to come quickly to your aid with our same-day garage door repair services and get straight to work.
We work with a variety of makes, models and brands when it comes to garage doors and their mechanics and can help you with your repairs, even on complex parts like the torsion spring. These repairs need to be done carefully and by professionals, since torsion springs can be incredibly dangerous even when damaged. We hope you will allow us to assist you with such an important aspect of your garage door. For more information, please contact us today.
---
At Access Garage Doors of Tallahassee, we offer garage door torsion spring repair services in Tallahassee, Centerville, Crawfordville, Havana, Lloyd, Monticello, Panacea, Perry, Quincy, and Woodville, Florida.