Garage Door Repair, South Nashville, TN
Choose us to come and fix your garage door.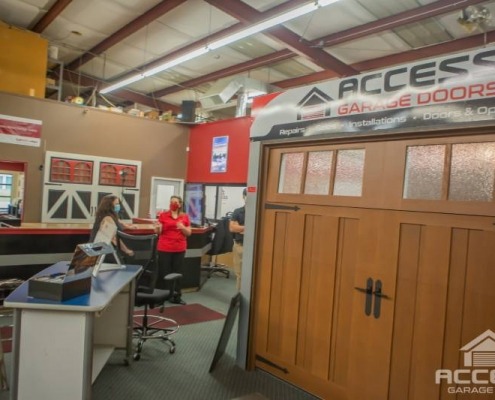 Your garage door suddenly won't open and close. What should you do? Call us at Access Garage Doors of South Nashville! Homeowners in South Nashville, Tennessee love us because of our great work, responsiveness, and excellent customer service.
We know garage door repair calls can't wait. This is why we provide quick, same-day service for all repair jobs. The minute you notice something's off with your garage door, call us and we'll send a technician out to look at your garage door system right away. Whether it's a problem with your opener, spring system, or the actual garage door, we're more than equipped to take care of the issue.
We also know that you don't want just anyone coming to your home to look at your garage door. Our people are our greatest asset, which is why all of our technicians go through our structured training program before they can get to work.
If you'd rather not move forward with garage door repair and choose to install a new garage door instead, we can do that, too. We offer some of the best warranties on new installations in the industry, and we'll get your new garage door installed and ready to use as soon as possible.
Don't trust just anyone with your garage door repair or installation – contact us the next time something goes wrong with your garage door and you need help as soon as possible. Offering same-day service and repairs, we're always here when you need us!
Our technicians specialize in garage door spring repair for all brands of doors. We'll respond quickly and can accommodate same-day service requests, so contact us when you need garage door specialists who can get the problem fixed….
Read More
When you press the button on your garage door remote, the door should immediately engage and open or close. If your door is slow to respond or makes a lot of excess noise when it's going up or down, you may be wondering if everything is functioning properly. A door that won't open or close at all is even more concerning….
Read More
As fate would have it, your garage door is likely to break down at the worst possible time. Perhaps you are running out the door late for an appointment and your garage door simply will not open, or even worse, when you press the button, your garage door spring breaks or the door begins to fall off the track. At Access Garage Doors of South Nashville, we are here for you…..
Read More
With proper maintenance, a garage door should last for many years, but eventually all garage doors will need repairs and ultimately, replacement. Garage door repairs often include broken springs, worn parts or a failing garage door opener, but can be as simple as needing to replace the batteries in your remote or greasing the track…..
Read More
The garage door opener is a vital component that allows the door to open and close safely and properly. But when you press the button and nothing happens, it's important to know where to turn for garage door opener repair. In the South Nashville, Tennessee area, you can always contact our team at Access Garage Doors of South Nashville. Our experienced and knowledgeable technicians…..
Read More
Garage door motors are one of those everyday conveniences that many homeowners don't really think about until something goes awry. You might be running late to an important meeting or event, only to be left stuck inside because your garage door won't open. Although this situation can certainly be frustrating, it may not require a complete overhaul…
Read More
If your garage door opener hasn't been operating as smoothly or efficiently as it used to, it might be time to contact a professional to take a look. Although garage door openers can easily last 10 years or longer, small issues can compound over time if they aren't taken care of promptly. However, one of the barriers to getting regular maintenance comes down…
Read More
---
At Access Garage Doors of South Nashville, we offer garage door repair for customers in South Nashville, Murfreesboro, Lascassas, Brentwood, Smyrna, Lavergne, Lebanon, Franklin, Nolensville, Watertown, Spring Hill, Thompson's Station, and Mt. Juliet, Tennessee.