Murfreesboro Garage Door Company
Serving the Murfreesboro Community
Murfreesboro, one of the largest cities in the Volunteer State, is a vibrant community located just 34 miles southeast of Nashville. Access Garage Doors of South Nashville is proud to provide the best garage door services in Murfreesboro to home and commercial property owners alike! With so many Murfreesboro residents working in the automotive industry, it's crucial that your home has a premium quality garage door protecting the vehicles and other valuables inside.
Read on to learn more about the services we provide.
Why Choose Access Garage Doors for Your Garage Door Services
Did you know? Garage doors are often the largest access point for homes and commercial properties alike. When your garage door isn't functioning properly, your entire property is at risk. Making sure your garage doors are operating at peak performance is key to ensuring your property's safety.
We know you've got a lot of choices when it comes to keeping your Murfreesboro garage door running smoothly. For the area's best garage door services, choose Access Garage Doors of South Nashville. With over 100 combined years of garage door experience, our professional and knowledgeable team knows what it takes to keep your garage door functioning properly and keep your property safe.
No matter what garage door services your property needs, we've got you covered.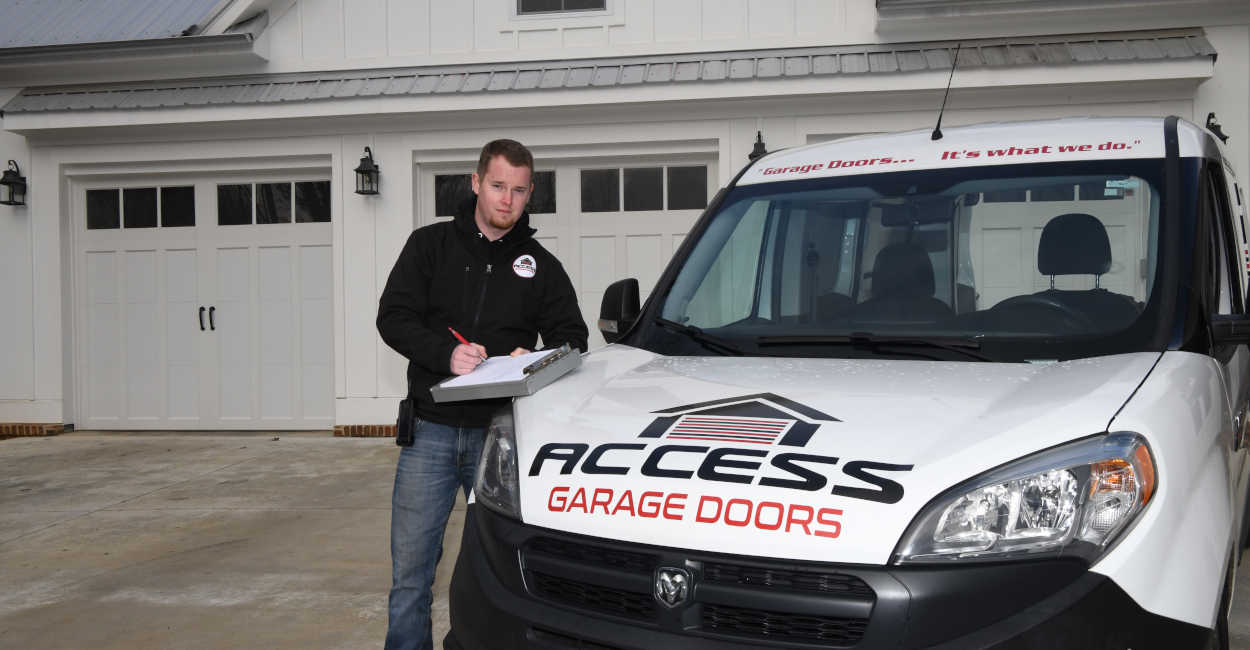 Garage Door Services in Murfreesboro
Who you choose for your garage door repairs, installations, and replacements matters. Access Garage Doors stands out from the rest, and it's not hard to see why. Check out our range of services!
Garage Door Repair
If you're in need of prompt, reliable garage door repairs, look no further than your local Access Garage Doors. We offer same-day garage door repairs to give you peace of mind that your property is secure. Our technicians are qualified to work with all makes and models of garage doors, as well as garage door openers.
Garage Door Replacement
If your garage door is beyond repair, we can assist with the replacement. We carry an array of design options to meet your needs. In addition to our lifetime warranty on installation, we stand behind the quality of our work with a five-year labor warranty on manufacturer defects. Access Garage Doors is a proud Clopay® dealer.
Garage Door Openers
Malfunctioning garage doors are a headache, to say the least. Our team works on all makes and models of garage door openers, and we know what it takes to provide an efficient repair. If it turns out you need a new garage door opener, not to worry – we carry a wide selection of industry-leading garage door openers and will install the right model for your needs.
Garage Door Screen Installation
Your garage can be a lot more than a place to store your vehicle! If you're interested in transforming your garage into a space to relax, entertain, or work, a garage door screen is a great place to start. We install sturdy, high-quality garage door screens that will let fresh air into your garage while keeping pests, debris, and the elements out.
Contact Murfreesboro's Trusted Garage Door Company
Access Garage Doors of South Nashville stands head and shoulders above the competition in Murfreesboro. We offer the best warranty packages in the business, as well as custom orders, rush orders, and same-day estimates. As a locally owned and operated company, you can count on us to treat you with the neighborly service you expect from a Murfreesboro business.
Give us a call today to schedule your next service!