Garage Door Contractor, South Nashville, TN
Get the solutions you need for your garage door from a contractor you can trust.
When your car engine stops suddenly, you take it to a mechanic. When you find a health concern, you take yourself to the doctor. When there is an issue that requires a specific realm of knowledge to find the proper solution, you rely on someone who specializes in that field. The same should be said for garage door repairs and replacements. Whether you've been hearing odd noises from your garage door or it just stopped working in general, it's best to hire a garage door contractor to help you with a proper solution to the problem. We at Access Garage Doors of South Nashville are happy to offer our contracting services for the South Nashville, Tennessee area.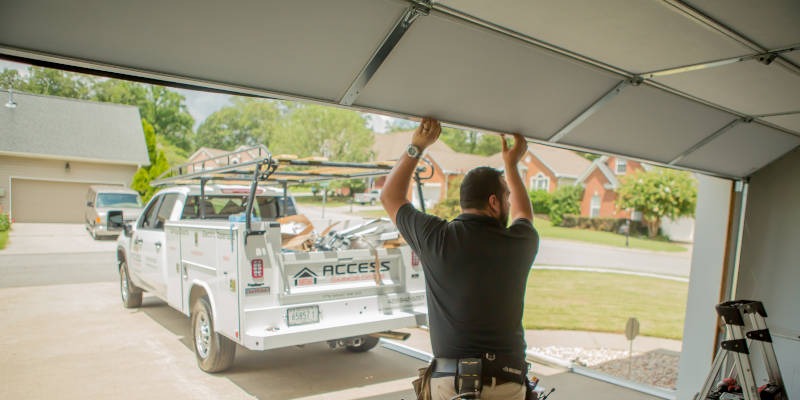 When you hire us as your garage door contractor, you can expect a timeliness that you will not get from other garage door companies. We understand that you use your garage door on a regular basis and probably do not have the skillset to repair it properly on your own. That's why we offer same-day repairs. You just give us a call, and we will be at your home to perform any repairs necessary that same day. That way, you can get back to using your garage door as usual in no time. As you might know, it is best to work with a garage door contractor rather than attempting the repairs on your own because we have the necessary experience, knowledge, training, equipment, and skills to repair your garage door the right way from the beginning.
We are also able to install or replace garage doors as needed. Our choice of manufacturer for new garage doors is Clopay, and you will find them to be top quality, no matter the type or style of garage door that you need. As garage door contractors, we can offer a five-year warranty for manufacturer defects. We also offer a lifetime warranty on any of our new installations.
Get the solutions you need for your garage door from a contractor you can trust. Give us a call today to schedule our garage door contractors.
---
At Access Garage Doors of South Nashville, our garage door contractors serve customers in South Nashville, Murfreesboro, Lascassas, Brentwood, Smyrna, Lavergne, Lebanon, Franklin, Nolensville, Watertown, Spring Hill, Thompson's Station, and Mt. Juliet, Tennessee.