Garage Door Repair, Huntsville, AL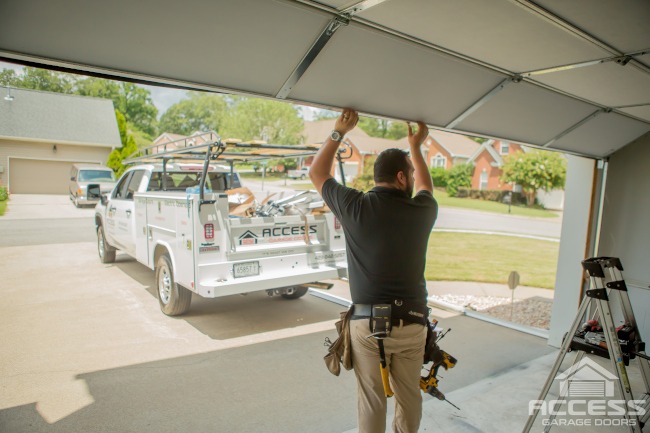 A garage door is likely a necessary part of your daily routine. Most people use their garage doors often and on a regular basis, especially for transportation or shipping needs. When your garage door needs a garage door repair, you need the help of experts who are skilled, trained, and available to assist you with this matter in a timely fashion. In Huntsville, Alabama, that means calling our experts here at Access Garage Doors of Huntsville for quick garage door repair services from local, trusted professionals!
Each repair technician who represents our business has performed exceptionally through our official structured training program. These individuals also work with a team daily that has over 100 years of combined experience with multiple awards and accolades to attest to the highest level of customer satisfaction. Our people are our greatest asset!
We are leading the way for garage door and electric opener service and repairs in the United States. We believe your hard-earned money deserves more than the standard one or two-year warranty. That is why we are proud to say we are one of the first companies in the nation to back up our installations with a LIFETIME WARRANTY. This means if something installed by our team has a malfunction years later due to our installation, the labor to resolve this issue will be covered under our Access Lifetime Installation Warranty. Our installers are experienced and well-trained in installing and servicing all types of garage door systems. It's what we do – all day, every day. We are the garage door experts!
Our team is trained and specializes in being able to service any brand or type of garage door and opener systems you have in your home, so we are sure to be able to help with whatever garage door repair needs you have. Contact us today for a FREE estimate regarding your repair.
Here in Huntsville, Alabama and the surrounding area, you can rely on our team at Access Garage Doors of Huntsville to provide garage door spring repair and many other garage door services….
Read More
The engine in your vehicle isn't meant to last indefinitely, and the same is true for the engine that powers your garage door. Engines of all sizes need some maintenance, repairs and the occasional replacement to keep going. If your garage door engine isn't working properly or isn't working like it used to, then our team at Access Garage Doors of Huntsville wants to help you with a garage door engine repair….
Read More
When you need local garage door repair in the Huntsville, Alabama area, you can always rely on our team at Access Garage Doors of Huntsville. We're a full-service garage door company that provides garage door repairs, installation, and maintenance. Our company is one of the most trusted providers of local repair services in the area. We take a customer-first approach to every job we tackle,….
Read More
When your garage door opener isn't working the way it should be, it's best to trust an experienced technician who knows what to look for and how to resolve a problem. A metal garage door is extremely heavy, and trying to perform a repair on your own could be catastrophic. The manufacturers of garage door…
Read More
In our experience here at Access Garage Doors of Huntsville, most people don't think about their garage door or its motor until something starts to go wrong with this mechanism. If your door's motor starts to malfunction, you will have problems getting the door open and closed, which can seriously disrupt your routine. Fortunately, our team…
Read More
In our experience at Access Garage Doors of Huntsville, many homeowners try to save money on home repairs by doing the work themselves. While in some cases this may be a viable solution, when it comes to garage door or garage door opener repair, your best choice is to hire professional…
Read More
While there are some home repairs you can complete yourself without too much trouble, there are others that require professional attention. One of the biggest examples of a task in the second category is garage door spring repair, as garage door springs are highly dangerous and can cause serious…
Read More
When it comes to home repairs, professional repair services are rarely cheap, but they are nearly always worth it for the convenience, effectiveness, and peace of mind they offer. In contrast, DIY solutions may be cheaper, but they generally take longer to complete and are less effective in the long term. This is definitely true of garage door repair, which is why…
Read More
---
At Access Garage Doors of Huntsville, we offer garage door repairs for customers in Huntsville, Madison, Athens, Decatur, Toney, Harvest, Hazel Green, Owens Cross Roads, Meridianville, New Market, and New Hope, Alabama, and Fayetteville, Tennessee.