Commercial Garage Door Installation, Huntsville, AL
We'll install your commercial garage door carefully to ensure that it functions properly and looks its best.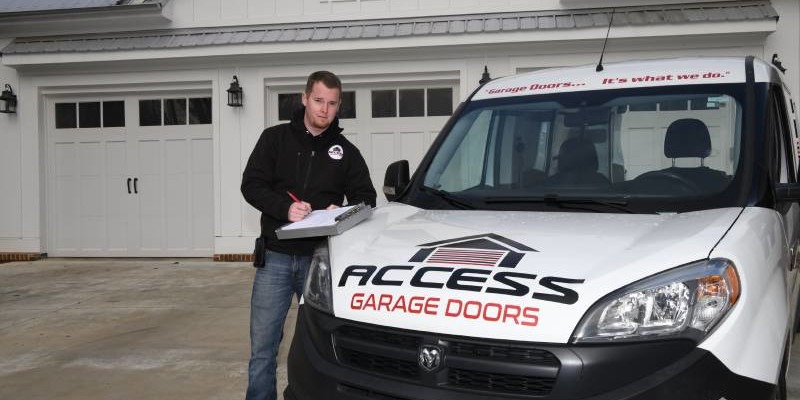 Whether you run a restaurant, store, auto shop, or some other kind of business that relies on a commercial garage door each day, you don't want to trust just anyone to install it. Luckily, we're the company you can rely on at Access Garage Doors of Huntsville. With extensive knowledge of garage doors and a team of experienced installers, we are more than prepared to offer you exceptional, reliable services. Leave your commercial garage door installation to us and we'll make sure that your new garage door enhances your business to an impressive degree both practically and aesthetically.
When we arrive at the scheduled time to provide commercial garage door installation, you can count on us to complete the job with attention to detail. Our installers will follow all the manufacturer's instructions to ensure that your garage door is secure and ready for daily use. And although we always complete installation in a timely manner, we won't ever cut corners during the process. After all, correct installation plays a significant role in how well your garage door lasts, how well it performs, and, of course, how satisfied you are with our service. We would never do anything to jeopardize these things, and we are willing to go the extra mile by offering you a lifetime installation warranty. If you ever experience issues with your garage door that are caused by our installation, this warranty will cover the costs of the labor needed to correct the problem.
We are proud to offer commercial garage doors to businesses in the Huntsville, Alabama community. Contact us today to schedule a free on-site estimate.
---
At Access Garage Doors of Huntsville, we offer commercial garage door installation for customers in Huntsville, Madison, Athens, Decatur, Toney, Harvest, Hazel Green, Owens Cross Roads, Meridianville, New Market, and New Hope, Alabama, and Fayetteville, Tennessee.