Garage Door Installation, Chattanooga, TN
You won't find a more experienced and professional team to handle your garage door installation.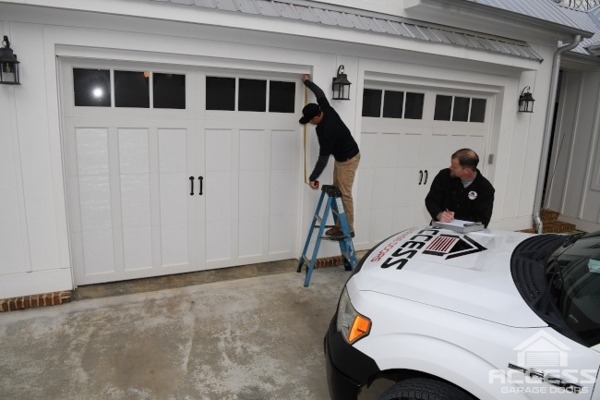 Having a reliable garage door begins with choosing a quality product, but it is also important to work with an experienced garage door installation professional. At Access Garage Doors of Chattanooga, we have you covered on both aspects. We are a dealer for Clopay, and our installers are experienced and well-trained in installing and servicing garage door systems.
Each garage door installation technician who represents our company has performed exceptionally through our structured training program. Our entire team has become garage door experts because it's what we do — all day, every day. We are quite confident in our expertise. We are proud to say that we are one of the first companies in the nation to back up our installations with a lifetime warranty. This means if something installed by us has a malfunction, even years later, due to our installation, the labor to resolve the issue is covered under our lifetime installation warranty.
You won't find a more experienced and professional team to handle your garage door installation in Chattanooga, Tennessee. We'll arrive at the appointed time, in uniform and driving a service vehicle that is clearly lettered and fully stocked to handle the installation efficiently. We'll leave the site clean and make sure any questions you have about your garage door have been answered to your complete satisfaction.
If you would like to know more, don't hesitate to reach out to us. We can schedule an appointment the same day you call to go over your options and provide you with a free estimate for garage door replacement at your home or business.
The opener on your garage door is the part of the system that allows the door to open and close smoothly and efficiently when you press the button. When a garage door is installed, the opener is often placed on the ceiling of the garage, where…
Read More
Nearly all garage doors rely on springs that allow for safe and efficient movement. A garage door often weighs well over 100 pounds, and the system of springs serves as a counterweight. When the door closes, the torsion spring winds around a horizontal metal bar, and when the door opens, it unwinds to release the mechanical energy and support the weight….
Read More
A garage is a valuable part of any property, whether it's a storage space at your home where you can keep your vehicles or a place to keep inventory at your business. In order to access a garage, this space features a door that is controlled remotely and moves up and down…
Read More
Unless you use your garage purely for storage, you most likely use your garage door every day as you drive in and out—and you most likely don't think anything of it. If your garage door motor breaks down, however, using your garage door immediately becomes a huge inconvenience…
Read More
---
At Access Garage Doors of Chattanooga, we offer garage door installation services in Chattanooga, Dayton, Dunlap, East Brainerd, Harrison, Hixson, Lookout Mountain, Ooltewah, Red Bank, Signal Mountain, and Soddy Daisy, Tennessee.