Garage Door Installation, Dayton, TN
We can install your new garage door with precision.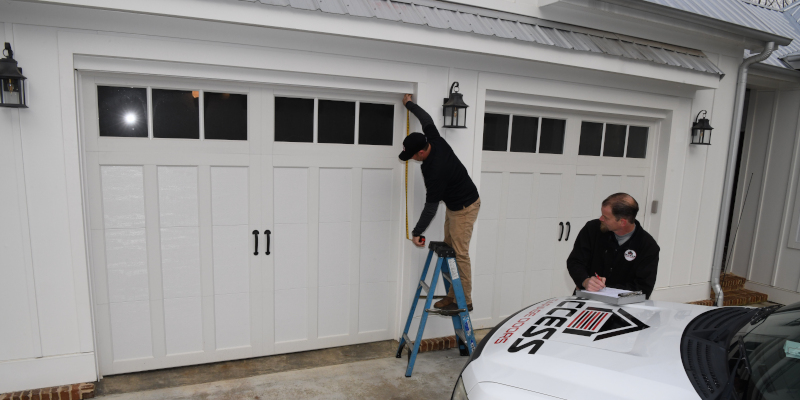 Make installing your new garage door a convenient, easy process with our help at Access Garage Doors of Chattanooga. We perform garage door installation throughout the Dayton, Tennessee area, and we're known for the excellence of our work and service. Whether you want to replace your garage door to improve your home's curb appeal or you need to replace a faulty garage door opener, we're your source for quality workmanship, helpful information, and great customer service.
Generally speaking, there are three times where you should call us for garage door installation services:
You want to improve your home's curb appeal with a new garage door.
Your old garage door is broken, and you need to replace it with a new one to ensure your home's convenience and security.
You want to improve energy efficiency in the garage or the rooms adjacent to the garage.
We'll introduce you to your options and help you find a new garage door that complements your home's aesthetics and your budget. We source our new garage doors from quality manufacturers, so your new garage door lasts for years to come. We'll also take special care during installation to ensure everything gets set up how it should and there is nothing you need to worry about in the future.
Our goal is to make installing a new garage door an easy home improvement project that is well worth the investment. Contact us today to learn more about our garage door installation services.
Nearly all garage doors rely on springs that allow for safe and efficient movement. A garage door often weighs well over 100 pounds, and the system of springs serves as a counterweight. When the door closes, the torsion spring winds around a horizontal metal bar, and when the door opens, it unwinds to release the mechanical energy…
Read More
The opener on your garage door is the part of the system that allows the door to open and close smoothly and efficiently when you press the button. When a garage door is installed, the opener is often placed on the ceiling of the garage, where it can connect to the door and the pulley system that bears its weight…
Read More
Unless you use your garage purely for storage, you most likely use your garage door every day as you drive in and out—and you most likely don't think anything of it. If your garage door motor breaks down, however, using your garage door immediately becomes a huge inconvenience. Fortunately, our team…
Read More
A garage is a valuable part of any property, whether it's a storage space at your home where you can keep your vehicles or a place to keep inventory at your business. In order to access a garage, this space features a door that is controlled remotely and moves up and down. The large size of a garage door…
Read More
---
At Access Garage Doors of Chattanooga, we offer garage door installation services in Chattanooga, Dayton, Dunlap, East Brainerd, Harrison, Hixson, Lookout Mountain, Ooltewah, Red Bank, Signal Mountain, and Soddy Daisy, Tennessee.