Garage Door Specialists, Dayton, TN
Our garage door specialists can help with many different services.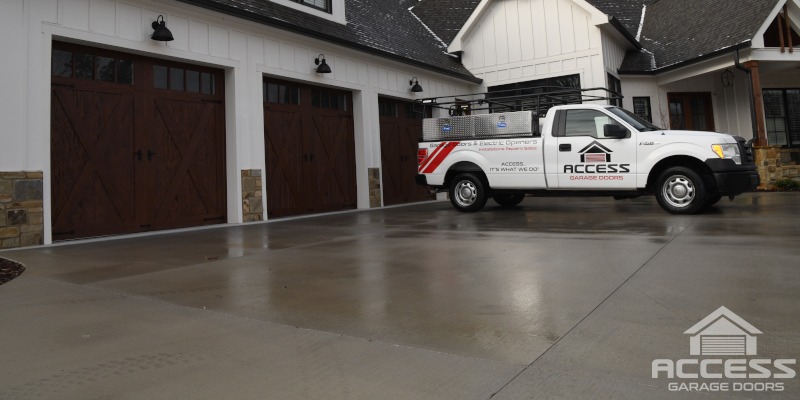 Your garage door is an important part of your vehicle and storage needs. Whether you have a home or commercial business, having the ability to come and go as you please is often made easier with the help of a garage door. Here in the Dayton, Tennessee area, you should call our garage door specialists when you need help with your garage door. Here at Access Garage Doors of Chattanooga, we believe our garage door specialists are going to give you the best in quality and services when it comes to your door, opener, springs and other garage door parts.
Our garage door specialists are trained and experienced to deal with a variety of garage doors, repairs, installation and replacement needs. Because of our experience, we are able to work with garage door specialists who can take care of even complex needs in a timely fashion. We are always professional and come in clearly marked and lettered trucks and wearing our uniforms. With access to stocked trucks that have parts and tools needed to properly complete most jobs, we are able to give you great results in a short amount of time.
If you have been looking for garage door specialists who know their stuff, then look no further! We have 24/7 scheduling options for your home and business garage door needs. We are an authorized Clopay dealer and offer a lifetime warranty on all installations, as well as a 5-year warranty for manufacturer defects. For more information about our garage door specialists or to make an appointment, please contact us today.
A garage door is highly valuable for your home or business. Whether you use your garage for exercise equipment, vehicle storage, a man-cave, or extra storage space, it is a vital part of your property. Here at Access Garage Doors of Chattanooga, we want to make your garage doors…
Read More
When you're looking for the best garage door company in the Dayton, Tennessee area, you might start by performing an online search. Although that action could produce a long list of results, you'll soon find that one company stands out…
Read More
---
At Access Garage Doors of Chattanooga, our garage door specialists proudly serve Chattanooga, Dayton, Dunlap, East Brainerd, Harrison, Hixson, Lookout Mountain, Ooltewah, Red Bank, Signal Mountain, and Soddy Daisy, Tennessee.